Ta strona jest w budowie. Wróć wkrótce! 😉
Roślinność 
Roślinność Rosharu przystosowała się do dominującego elementu tego świata – Arcyburz. Potężne huragany przetaczające się przez cały świat okazują się wystarczające silne do wyrywania drzew z korzeniami, czy rzucania głazami. Niemal zupełnie zdzierają z ziemi warstwę gleby, wymaganej dla swobodnego życia roślin.
Prawie każdy element flory Rosharu posiada mechanizm odpowiedzialny za obronę jej bytu przed Arcyburzami. Zazwyczaj prezentuje małą i zwartą postać oraz chwytają się mocno każdej połaci terenu, na której rosną poprzez rozbudowany system korzeniowy. Rozwijają też twardą powłokę, ograniczającą transpirację wody i chroniącą przed uszkodzeniami mechanicznymi. Nie marnują jednak czasu wolnego od burzowego zagrożenia, rozwijając się tuż po tym, jak zaczyna mżyć. Nienarażone na gwałtowne podmuchy wiatru, otwierają się na każdą kroplę wilgoci, która pozwoli im przetrwać. Rosharską florę można porównać do kserofitów – grupy znanych nam roślin,  które swoimi przystosowaniami do ciepłego, suchego klimatu mogą przypominać nam znane z książki rośliny.
Wiele z nich również doskonale uodparnia się na zagrożenie ze strony zwierząt i człowieka, reagując szybko i inteligentnie. Dla przykładu, trawa na podstawie drgań powierzchni czy powietrza przewiduje zbliżający się nacisk, ukrywając się w odpowiednim momencie w ziemi. Podobnie robią skorupy skałopąków i korzenie winorośli szukające źródeł wody w pobliżu.
Każda lokalizacja dostarczająca stałej wilgoci jest niezwykle cenna, dlatego nawet okresowe rzeki, wypełniające się na krótki okres po Arcyburzy generują wokoło mnóstwo roślin.
Uprawa jakiejkolwiek odmiany flory ma na celu przede wszystkim przydatność, głównie zapełnianie żołądków i rzemieślnictwo. Na Rosharze nie kultywuje się obyczaju obdarowywania na przykład kwiatami, jego występowanie jest znikome i można je obserwować głównie na zachodzie, w Shinovarze, kraju, który pod względem biogeografii jest najbardziej zróżnicowany – docierające tam Arcyburze są już pozbawione swej pierwotnej niszczycielskiej siły, więc na terenie tym występuje gleba oraz roślinność, która nie przetrwałaby  na wschodzie kontynentu.
–
Znana roślinność
Czarnozguba jest jedną z najbardziej śmiertelnych naturalnych trucizn. Posiada wąskie, ciemno zielone liście o trójdzielnym pędzie; ząb koniczyna. Musi wyschnąć, by uzyskać pełną moc.
Skałokolce posiadają gałęzie przypominające rurki z piaskowca, które trzęsą się i trzaskają.
Ogniomech, kiedy jest pocierany słychać ciche trzaskanie i unoszące się smużki dymu. Ponoć sprawia, że ludzki umysł staje się bardziej otwarty na myśli i idee. Najwyraźniej, kiedy już pojawiały się odciski na palcach, mógł działać euforycznie.
Czworolist, sok z tej rośliny jest maścią zapobiegającą infekcjom.
Falbankowiec posiada dwa szerokie, pomarańczowe wachlarzowate liście z kolcami na czubkach, rozwijające się jak otwierana dłoń.
Gulket, wcieranie soku z jego liści w obolałe mięśnie, sprawia, że jednocześnie się rozgrzewają i ochładzają.
Guzowiec, jego sok jest stosowany jako silny środek odkażający. Rośnie w różnych miejscach, między innymi wokół obozów wojskowych Atetharu w pobliżu Strzaskanych Równin, gdzie Kaladin zbierał go dla swoich mostowych. Posiada sztywne pędy mające długość męskiego przedramienia. Wieńczą je delikatne pierzaste liście, mogące cofnąć się w głąb źdźbła. Same źdźbła są nieruchome, ale całkiem bezpieczne za głazami. Burza może odrywać niektóre z nich, jednak te z powrotem wrastają w ziemię w nowym miejscu, gdy cichnie wiatr. Jest używany do produkcji soku z guzowca lub mleczka z guzowca, z których oba posiadają silne właściwości antyseptyczne. Mleczko może być wydobyte poprzez oderwanie pierzastego szczytu rośliny i przeciągnięcie wzdłuż pędu palcami z jednoczesnym ściskaniem go mocno. Uzyskujemy dwie krople mlecznego płynu z jednego pędu. Aptekarze w obozach wojskowych zarabiają krocie poprzez sprzedaż soku z guzowca, ponieważ tylko oni zdają sobie sprawę z powszechnego występowania rośliny.
Korzennik może być użyty do przygotowania gulaszu i smakuje lekko minerałami. Są to łatwe do uprawiania korzenie, które rosną w pęknięciach skał, gdzie zbiera się woda po burzach. Są lepkie gdy się je kroi oraz pokrywa je na zewnątrz warstwa kremu.
Drzewo markelowe ich korę pokrywał kamień, a konary były grube jak noga dorosłego mężczyzny.
Stertnik posiada włókniste, czerwone owoce.
Łupkokora stanowi osobną grupę, jedną z wielu z wyjątkowej flory Rosharu. Ma ona różne kształty i żywe kolory – róże, zielenie, błękity, pomarańcze, czerwienie i żółcie. Łuskowate, twarde rośliny, które nie mają pędów ani liści, jedynie falujące wąsy przypominające kolorowe włosy, które kołyszą się na wietrze. Łupkokora wydaje się być bardziej podobna do skały niż do rośliny. Rośnie w fantastyczne i skomplikowane wzory. Jej kępy w odmianie bulwiastej wyglądają jak sterty ubrań, z fałdami przypominającymi wachlarze. Inne wyrastają jak rogi.
Odmiana zwana " talerzowym kamieniem" wyrasta w cienkich, okrągłych segmentach, jeden na drugim, jak talerze w kredensie. Z boku przypomina wyglądem zerodowany kamień odsłaniający setki cienkich warstw. Z otworów wyrastały malutkie wąsy, falujące na wietrze. Kamienna skorupa ma niebieskawy odcień, ale wąsy są żółtawe. Inne odmiany łupkokory mają przypominające palce występy wyrastające w powietrze z centralnego zgrubienia.
Łupkokora żyje w symbiozie ze ślimakami. Zjadają porosty i pleśń, czyszcząc w ten sposób roślinę. Niektóre typy łupkokory żyją w symbiozie z kremlikami.
Supłokrzew obrasta gęstymi zaroślami przysadziste drzewa markelowe, dzięki czemu razem są w stanie przetrwać arcyburze.
Stagm brązowawa bulwa, która wyrastała w głębokich kałużach.
Karlak to guzowate drzewo wzrostu człowieka wypuszcza liście jedynie po zawietrznej. Rosną wzdłuż całego pnia jak szczeble drabiny i falują na wietrze.
Jagody prawdy – Jagody są nieszkodliwe. Ale liście i pędy rośliny, jeśli je spalić, wydzielają dym, który wprawia ludzi w upojenie i euforię.
Zimowe ziele – jest gorzkie w smaku, sprowadza głęboki sen trwający około 5 godzin.
–
Rodzina Skałopąków
Skałopąki są najbardziej wszechobecną rodziną roślin, rozproszoną na całym terenie burzowych ziem Rosharu.
Istnieje wiele różnych ich odmian, ale posiadają pewne cechy wspólne: wszystkie posiadają coś w rodzaju "skorupy", do którego wyciągają swoje liście dla ochrony przed drapieżnikami i Arcyburzami. Podczas zimowych tygodni skałopąki zwijają się wewnątrz muszli. Ich kora dobrze służy do palenia.
Istnieją także malutkie polipy skałopąków na bokach budynków, które trzeba zdrapywać. Wyżerają one bowiem kamień ze ścian, tworząc zagłębienia i pęknięcia.
Lawis i Tallew. Uprawiane do spożywania, Lawis to ciemnobrązowe polipy, wypełnione ziarnem. Po wysuszeniu ziarna używa się do wypieku chleba oraz przy produkcji ale. W ciągu 4 miesięcy dojrzewa i jest gotowe do zbiorów.
Cierniowiec – spiczaste zarośla o kamiennych pędach.
Zwierzęta
Fauna Rosharu znacząco różni się od fauny Ziemskiej. Jedynym rejonem, gdzie powszechnie występują kręgowce jest Shinovar, z fauną i florą zbliżoną do ziemskiej w strefie umiarkowanej. W pozostałych rejonach występują przede wszystkim bezkręgowce, głównie skorupiaki i mięczaki. Kręgowcami powszechnie występującymi na Rosharze są różne gatunki ryb.
Zwierzęta na Rosharze są w większości zmiennocieplne, co jest zrozumiałe przy nieregularnie zmieniającym się klimacie. Często są zdolne do letargu, wiele jest opancerzonych, co pozwala znosić arcyburze. Wiele innych potrafi tworzyć sobie schronienia, inne mają zdolność zmiany kształtu, by móc łatwiej znaleźć schronienie przed burzą.
Zwierzęta Występujące na Rosharze.
Kremliki – nazwa ta obejmuje rodzinę zwierząt, a pochodzi od faktu, że żyją w kremie i żywią się obecnymi w nim substancjami odżywczymi. Są to małe skorupiaki, żyjące na powierzchni całego Rosharu. Jest wiele gatunków kremlików, wszystkie mają cechy wspólne takie jak długie w stosunku do szerokości, segmentowane ciała i wiele odnóży, niekiedy mają szczypce, prawdopodobnie są zmiennocieplne. Często żyją w symbiozie z łupkokorą, oczyszczając ją z kremu i innych zanieczyszczeń lub usuwając porosty. Prawdopodobnie żyją w rojach podobnych do mrowisk. Niektóre gatunki kremlików wykształcają wyspecjalizowane podgatunki w obrębie jednego roju, mając różne formy do różnych zadań (zapewne kremliki – robotnicy, kremliki – żołnierze itp.). Kremliki jako organizmy roślinożerne lub saprofityczne znajdują się na dole łańcucha pokarmowego. Są bardzo płochliwe, uciekają na pierwszy objaw niebezpieczeństwa, co sprawia że są dobrym ostrzeżeniem. Kremliki występują w wielu kolorach. Ich krew jest fioletowa.
Chulle – gatunek bądź kilka gatunków dużych skorupiaków występujących na terenie całego Rosharu. Roślinożerne, zapewne zmiennocieplne, a ich krew jest fioletowa. Powszechnie wykorzystywane jako zwierzęta pociągowe, ze względu na dużą siłę i łagodne usposobienie. Rozkazy dla chulla wydaje się za pomocą rytmów wystukiwanych trzciną na pancerzu tego dużego skorupiaka. Ze względu na małą prędkość chulle nie nadają się na zwierzęta wierzchowe, człowiek idący szybkim marszem porusza się szybciej.
Chulle są prawdopodobnie jajorodne, przechodzą w swoim życiu przez kilka etapów rozwoju. Pierwszym etapem jest jajo, kolejnym – larwa. Larwa dorasta, a gdy osiągnie odpowiedni etap rozwoju, przekształca się w poczwarkę, a następnie w dorosłego Chulla. Aby przyspieszyć przepoczwarzanie larw, należy karmić larwy liśćmi skalnej lilii. Dorosłe chulle również się przepoczwarzają, wraz z nadejściem arcyburzy – możliwe że jest to proces odwracalny, a one same chronią się poczwarką przed arcyburzą. Aby uniemożliwić przepoczwarzanie, należy poić chulle olejkiem z łupkokory, a przed arcyburzą karmić zmiażdżonym skorupowym kleszczem.
Chulle nie mają aktywnych mechanizmów obronnych, zaatakowane chowają się w swojej skorupie podobnie do żółwi, licząc na wytrzymałość pancerza. Dzikie chulle stanowią naturalny pokarm dla wielkoskorupów, takich jak przepastne bestie. Pancerz Chulli jest pozbawiony unerwienia.
Kurl – skorupiak wielkości małego ostrogara, o wyglądzie przypominającym skrzyżowanie kraba i żółwia. Nie wiadomo czym się żywi, wiadomo, że jest bardzo opiekuńczym rodzicem i bardzo pilnie pilnuje gniazda z jajami. Nie żyje w okolicach Strzaskanych Równin.
Ostrogary – gatunek lub kilka gatunków drapieżnych, prawdopodobnie zmiennocieplnych skorupiaków lub insektoidów występujących na terenie całego Rosharu. Występują zarówno dzikie, jak i udomowione. Powszechnie wykorzystywane jako zwierzęta myśliwskie oraz stróżujące, czyli jest to odpowiednik ziemskich psów, choć mogą osiągnąć znacznie większe rozmiary, niekiedy dorastają do wysokości człowieka i wagi jednej tony.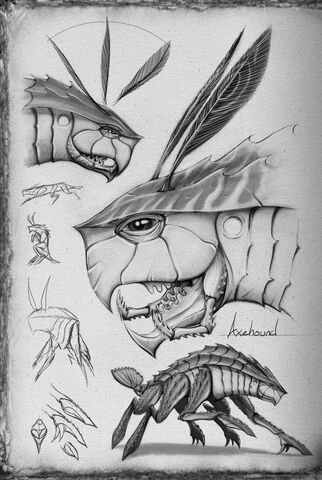 Ostrogary mają trzy pary nóg oraz jedną parę żuwaczek. Mają klinowate głowy, na których umieszczona jest para ruchomych czułków czuciowych. Z tyłu głowy ostrogar ma duże otwory uszne. Zewnętrzna powłoka to coś pomiędzy skórą a skorupą, gładsza i bardziej miękka niż u innych skorupiaków, ciało podzielone jest na wiele segmentów, co zapewnia ostrogarom bardzo dużą mobilność. Ostrogary wydają bardzo charakterystyczne odgłosy.
Ostrogary są zwierzętami stadnymi, jak wilki. Żyją i polują w grupach. Małe ostrogary są dość płochliwe, większe dzikie ostrogary mogą być agresywne. Prawdopodobnie są terytorialne.
Białogrzbiety – niebezpieczne drapieżne stworzenia, przypominające połączenie skorupiaka i gada, przypuszczalnie zmiennocieplne, dość powszechnie występujące na Rosharze. Okryte złą sławą, agresywne i terytorialne. Jasnoocy urządzają polowania na te drapieżniki dla rozrywki, jednak jest to niebezpieczne i często może się skończyć poważnymi okaleczeniami a nawet śmiercią myśliwych.
Białogrzbiety są wielkości konia. Mają sześć odnóży, jednak poruszają się jedynie na dwóch tylnych, które są wyraźnie większe od pozostałych i wyposażone w dwa duże pazury. Zachowują równowagę dzięki długiemu ogonowi. Pozostałe dwie pary kończyn są małe i używane prawdopodobnie do przytrzymywania zdobyczy. Okryte przypominającym żółwi pancerzem. Wzdłuż całej długości ciała na grzbiecie biegnie rząd długich, ostrych białych wyrostków kostnych, od których stwór wziął swoją nazwę. Łeb białogrzbieta jest w przybliżeniu prostopadłościenny, z pyska wystają mu dwa długie kły, aparat gębowy stanowią dwie żuwaczki "jak zęby, tylko bardziej paskudne".
Białogrzbiety są samotnikami, bardzo terytorialnymi. Nie boją się atakować ludzi. Potrzebują dużego terenu i uwięzione popadają w apatię. W zimie lub w stanie apatii zapadają w letarg otaczając się kryształowym kokonem, który rozpuszcza się w wodzie, zatem Arcyburza go zmywa.
Agresywność Białogrzbieta jest tak znana, że aż przysłowiowa, np. gdy ktoś z własnej woli angażuje się w niebezpieczną sytuację, to mówi się, że wchodzi do leża białogrzbieta.
Przepastne Bestie – olbrzymie skorupiaki pojawiające się na Strzaskanych Równinach. Są odmianą Wielkoskorupów. W ich wnętrzach wyrastają olbrzymie szmaragdy, zwane Sercami Klejnotów, napełnione Burzowym Światłem.
Dorosłe Przepastne Bestie osiągają wzrost 50 stóp, czyli 15m, tułów jest szeroki na 20 stóp (6m). Poruszają się na 7 parach odnóży, mają też 2 pary szczypiec wielkości konia. Okryte są twardym, bardzo grubym segmentowanym egzoszkieletem, który jest martwą tkanką, w dużej mierze zmineralizowaną. Głowa Przepastnej Bestii jest klinowata, blisko czubka ma otwory nosowe, po dwóch stronach ma oczy, szkliste i zielone. Za oczami ma duże otwory uszne. Bestia ma szczęki, choć otwór gębowy jest okrągły, wyposażony w coś w rodzaju zębów dookoła. Na aparat gębowy składa się jeszcze para żuwaczek.
Przepastne Bestie przybywają na Strzaskane równiny, żeby się przepoczwarzyć. Poczwarki Bestii są duże i twarde jak kamień. Rozbicie poczwarki jest najłatwiejszym sposobem zdobycia Serca Klejnotu. Poczwarki są podobne do poczwarek wielkoskorupa yu neriga, co może sugerować pokrewieństwo. Prawdopodobnie w naturalnym środowisku Bestie żywią się dzikimi chullami, gdyż ich szczypce są wyraźnie przystosowane do rozłupywania skorup.
Przepastne Bestie, jako olbrzymie drapieżniki, są na szczycie łańcucha pokarmowego. Są tak silne, że mogą zmiażdżyć człowieka w Pancerzu Odprysku jednym ciosem szczypiec. Są niezwykle szybkie, jak na swoje rozmiary, dzięki dużej ilości segmentów pancerza są też bardzo mobilne, zdolne do robienia szybkich zwrotów i manewrowania w relatywnie ciasnych przestrzeniach. Są dość inteligentne, potrafią wstrzymywać się z atakiem w oczekiwaniu na dogodną chwilę lub mogą rozpoznać pułapkę. Mają wyczulone zmysły, potrafią kierować się echem głosów by tropić ofiarę. Wydają z siebie bardzo charakterystyczne odgłosy, przypominające trąbienie rogów, ale w czterech tonacjach równocześnie. Wokół Bestii krążą specyficzne spreny, przypominające świecące strzały.
Tai-na – olbrzymich rozmiarów wielkoskorupy, które są niektórymi z wysp Reshi. Wyglądem przypominają olbrzymie żółwie. Ich skorupa jest niewrażliwa niczym skała, dzięki czemu mogą na niej rosnąć drzewa i można tam budować budynki. Tai-na wędrują powoli po Morzu Reshi, prawdopodobnie w poszukiwaniu pożywienia. Nie wiadomo co jest ich podstawowym pożywieniem, wiadomo że zjadają pokarm roślinny, taki jak owoce. Nie znane są też ich zwyczaje. Prawdopodobnie są inteligentne, możliwe że rozumieją mowę.
Reshi czczą Tai-na jako bogów – każdy wielkoskorup jest bogiem wyspy, którą tworzy jego skorupa.
Haspery – popularne stworzenia na Rosharze. Być może skorupiaki, przypominają bardziej małże lub ukwiał. Żyją nieruchomo, przymocowane do skał, mają skorupę przypominającą muszlę, która otwiera się i zamyka, prawdopodobnie filtrując powietrze z substancji odżywczych.
Pieśniki – niewielkie, wielkości pięści, skorupiaki o skorupie w kształcie spiczastego dysku, o pofałdowanej powierzchni. Mają po cztery nogi, którymi czepiają się skał, oraz cztery ramiona, za pomocą których wystukują rytmy na skorupie. To od tych rytmów wzięła się nazwa pieśników. Każdy pieśnik ma nieco inną tonację oraz rytm swojej pieśni.
Skowrończyki – niezwykle rzadkie niewielkie skorupiaki. Pochodzą z Aimi, wedle powszechnej wiedzy razem z nią wymarły, jednak czasem można je jeszcze spotkać, zwłaszcza na Wyspach Reshi (patrz Tai-Na).
Skowrończyki przypominają kształtem niektóre kremliki, ale mają skrzydła i potrafią latać. Są wielkości dłoni. Mają duże srebrne oczy.
Skowrończyki mają jakiś związek z Krainą Umysłu, jeszcze nie wyjaśniony. Potrafią wchłaniać z otoczenia Burzowe Światło, kiedy są ranne. Mogą nawet wyssać Światło bezpośrednio z Mocowiązcy.
Lurgi – małe, odżywiające się owadami insektoidy o barwie brązowo-zielonej. Mają sześć nóg, którymi czepiają się skał i wydzielają śluz, którym się przylepiają. Oczy mają umiejscowione pośrodku grzbietu. W czasie pomiędzy arcyburzami otaczają się kokonem z przypominającej jedwab wydzieliny, która rozpuszcza się w wodzie, co jest dla lurga sygnałem do rozpoczęcia łowów. Wnętrze kokonu jest wodoszczelne, gdyż lurg zabezpiecza je zaschniętym śluzem.
Sarpentyny – rodzina zwierząt występujących na zachodzie Rosharu. Są mięczakami, nieco przypominającymi ośmiornice, jednak równocześnie są stałocieplne. Jeden z gatunków ma cztery macki oraz dwoje oczu. Nie wiadomo czym się żywią, są dość płochliwe, zaczepione starają się odstraszyć przeciwnika, starając się wyglądać na większe. Potrafią w ograniczonym stopniu zmieniać kształty, co pozwala im wciskać się w szczeliny skalne dla ochrony przed drapieżnikami lub arcyburzą.
Sarpentyny są obecne w ludowych opowiastkach, podobno osobnik z menażerii z obozów na Strzaskanych Równinach to "Diabelski kamień pochwycony w Marabethii. Miejscowi twierdzą, że to odrodzona żądna zemsty dusza zamordowanego dziecka".
Węgorze Niebieskie – rybo podobne zwierzęta, mające zdolność unoszenia się w powietrzu. Drapieżne, żywią się zwykłymi rybami i krabami. Potrzebują wody, prawdopodobnie wrażliwe na wysuszenie. Długie na 4-5 stóp, choć spotykane bywały osobniki o rozmiarze nawet 7stóp. Nieznany jest mechanizm, dzięki któremu unoszą się w powietrzu, mają po bokach tułowia długie płaty skórne przypominające skrzydła, możliwe też że mają pęcherze wypełnione gazem, które zwiększają ich wyporność w powietrzu. Źle czują się w zamknięciu, potrzebują otwartej przestrzeni. Węgorzom towarzyszą często spreny, takie same jak te towarzyszące Przepastnym Bestiom.
Santhid – bardzo rzadkie morskie stworzenie, nigdy nie wynurzające się ponad powierzchnię morza z wyjątkiem szczytu skorupy. Nie wiadomo, czy jest skorupiakiem czy mięczakiem. Ma dużą skorupę przypominającą żółwiową, ciało zwarte w kolorze niebieskoszarym, dwoje oczu po obu stronach ciała pod skorupą, każde wielkości ludzkiej głowy. Ma też długie błękitne macki, które ciągnie za sobą, chwytne, możliwe że służą też do odżywiania się. Porusza się za pomocą dużych płetw po obu stronach ciała. Towarzyszą mu dziwne spreny przypominające wyglądem groty strzał.
Santhid jest prawdopodobnie inteligentny i być może zdolny do zawiązywania więzi z ludźmi. Jest w stanie np. uratować tonącego.
Ciekawostka: Liczba mnoga od wyrazu Santhid to Santhidyn.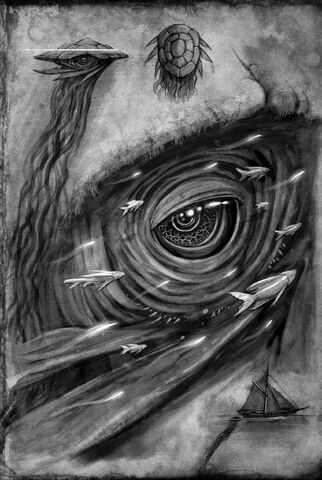 Khornaki – nieopisane jeszcze zwierzęta, niebezpieczne morskie drapieżniki.
Kolgryl – ryba żyjąca w Czystym Jeziorze, uważana za szczęśliwą. Po zjedzeniu leczy bolące stawy, czyli zawiera długo działający środek przeciwbólowy. Podobno też pozwala czasem przewidywać odwiedziny przyjaciół.
Konie Ryshadyjskie – wielkie i bardzo inteligentne konie, jako rasa kiedyś służyły Świetlistym. Nawiązują bardzo głęboką więź z ludźmi, w odróżnieniu od innych zwierząt, to koń wybiera człowieka któremu chce towarzyszyć, a nie odwrotnie. Rozumieją ludzką mowę. Znane są tylko trzy Ryshadyjskie, związany z Dalinarem Galant, związany z Adolinem Pewnokrwisty oraz nieznany z imienia Ryshadyjski związany z arcyksięciem Hathamem.
W Archiwum powszechnie występują też różnego rodzaju ryby, jaszczurki, żółwie, kraby, różne owady, zdarzają się też zwierzęta określane jako jaszczurko-kraby. W Shinovarze żyją zwykłe konie, woły oraz kurczaki.
Autorzy: Hrosskar, Bzhydack