Klejnoty. Kamienie Szlachetne. Na Rosharze to nie tylko ozdoba lub lokata kapitału. Gospodarowanie klejnotami to podstawa ekonomii tego świata, a prócz tego mają duże znaczenie mistyczne.
O kulach (oryg. spheres) mogliście się dowiedzieć nieco w naszym słowniczku. Tym razem przedstawiamy pełną specyfikację tego wyjątkowego zjawiska wprost z Rosharu.
–
Właściwości ogólne:
Bardzo znacząca rola klejnotów na Rosharze wynika z dwóch faktów, powiązanych ze sobą. Po pierwsze, nie można ich otrzymać przez Dusznikowanie, transformując je z innej materii, co sprawia, że można je wydobywać jedynie w tradycyjny sposób, a zatem są bardzo rzadkie. Po drugie, klejnoty są jedynym materiałem, w którym można gromadzić i przechowywać Burzowe Światło. Napełnia się je, wystawiając je na działanie Arcyburzy.
Ilość Burzowego Światła, jaką można przechować w klejnotach, zależy od wielkości i rodzaju klejnotu oraz od jego oszlifowania. Oszlifowane klejnoty przechowują więcej Światła niż nieoszlifowane. Być może ilość Światła będzie też zależeć od czystości klejnotu, ale różnica nie będzie duża.
Istnieje dziesięć typów klejnotów. Powiązane są z podstawowymi Dziesięcioma Esencjami. Są to:
– Szafir, związany z Esencją Zefir, pozwala tworzyć Powietrze i przejrzyste gazy,
– Kwarc Dymny, związany z Esencją Wapor, pozwala tworzyć Dymy i Mgły
– Rubin, związany z Esencją Iskra, pozwala tworzyć Ogień,
– Diament, związany z Esencją Światłości, pozwala tworzyć przezroczyste ciała stałe,
– Szmaragd, związany z Esencją Miąższ, pozwala tworzyć żywność i inne produkty roślinne,
– Granat, związany z Esencją Krew, pozwala tworzyć krew i nietłuste płyny, w tym wodę,
– Cyrkonia, związany z Esencją Łój, pozwala tworzyć tłuszcze i oleje,
– Ametyst, związany z Esencją Blacha, pozwala tworzyć metale,
– Topaz, związany z Esencją Piarg, pozwala tworzyć wszelkie kamienie i skały,
– Heliodor, związany z Esencją Ścięgno, pozwala tworzyć ciało i mięso,
–
Pełnione Funkcje
Waluta
Podstawową funkcją klejnotów jest funkcja waluty. Klejnoty o dokładnej wadze pełnią rolę pieniędzy, a ich wartość zależy od wielkości i rodzaju klejnotu. Klejnoty-pieniądze określane są jako kule i otrzymuje się je przez zatopienie odpowiedniej wielkości i odpowiednio oszlifowanego klejnotu w szkle. Pieniądze rzeczywiście mają kształt kul, choć są spłaszczone z jednej strony, by się nie turlały po płaskich powierzchniach. Kule mogą absorbować Burzowe Światło i są używane jako jego źródło przez Duszników oraz Mocowiązców. Choć wartość kul nie zależy od tego, czy zawierają Burzowe Światło czy nie, kule nie zawierające Światła są określane jako "bure" i często nie są akceptowalne w handlu, ze względu na możliwość bycia fałszywymi – w świecącej kuli od razu widać klejnot, w burej jest to bardzo trudne. Jedynym sposobem napełnienia kul jest wystawienie ich na działanie Arcyburzy. Bankierzy mogą za odpowiednią opłatą wymienić kule bure na kule napełnione.
System walutowy na Rosharze jest systemem dość skomplikowanym. Kule występują w dziewięciu rodzajach, w zależności od klejnotu zawartego w środku, oraz w trzech rozmiarach. Rozmiary kul są określane jako Odłamek, Marka i Broam. Jedna Marka warta jest pięć Odłamków, jeden Broam jest wart cztery Marki, czyli dwadzieścia Odłamków odpowiadającego klejnotu. Odłamek jest wielkości paznokcia, czyli ma około 1 cm średnicy. Marki i Broamy są większe, zbyt duże by je połykać.
Dziewięć na dziesięć rodzajów klejnotów wykorzystywanych jest do tworzenia kul. Są to Diament, Granat, Rubin, Szafir, Szmaragd, Cyrkonia, Ametyst, Topaz. Nie wiadomo, który z pozostałych dwóch kamieni jest jeszcze wykorzystywany, Heliodor czy Kwarc Dymny. Znane są jedynie wartości względne pięciu klejnotów – Diamentu, Granatu, Rubinu, Szafiru i Szmaragdu. Diamenty są najmniej wartościowymi kulami, jeden diamentowy Odłamek to najniższy możliwy nominał (odpowiednik naszego grosza, choć siłę nabywczą ma znacznie większą). Z kolei najcenniejszymi kulami są Szmaragdy – Szmaragdowy Broam wart jest 1000 diamentowych Odłamków.
–
Pełna tabela znanych wartości kul:
Typ
Alt. Nazwa
Wartości w przeliczeniu na diamentowe odłamki
Odłamek
Marka
Broam
Diament
Czysty (a)
1
5
20
Granat
Krwawy (a)
5
25
100
Rubin
Ognisty (a)
10
50
200
Szafir
Niebiański (a)
25
125
500
Szmaragd
50
250
1000
–
Wartości względne kul różnych rodzajów wynikają z ich użytecznością dla Duszników. Dlatego właśnie najcenniejsze są Szmaragdy, gdyż używa się ich do otrzymywania Dusznikowanej żywności lub materiałów budowlanych, a najmniej cenne Diamenty, gdyż materiały powiązane z ich Esencją (przezroczyste ciała stałe) równie łatwo otrzymać drogą tradycyjną. Nie są znane względne wartości pozostałych czterech klejnotów, jednak można spekulować, że heliodor, jeśli jest używany jako kula, będzie miał wysoką wartość, gdyż tak jak szmaragd służy do tworzenia żywności (mięsa), wysoką wartość może również mieć ametyst, używany do tworzenia metali – co ma pewne potwierdzenie, gdyż ametystowy Broam jest określany jako "bogactwo" przez Skałę, nawet mimo dużych pensji Mostu IV jako strażników osobistych.
–
Znane ceny i koszty:
– Niewolnik zarabiał 1 diamentową Markę.
– Mostowy arcyksięcia Sadeasa zarabiał 2 diamentowe Marki.
– Butelka soku z guzowca kosztuje 2 szafirowe Marki.
– Ciemnooki żołnierz zarabia 5 diamentowych Marek dziennie.
– Bochenek chleba kosztuje 1 diamentowy Odłamek.
– Przekąska w postaci owocu w lukrze kosztuje 1 diamentowy Odłamek.
– Bandaże kosztują 2 diamentowe Odłamki za długość ramienia (ok. metra).
– Przejazd wózkiem tragarza w Kharbrancie kosztuje kilka diamentowych Odłamków, uczciwa cena to 2, według Yalba.
– Wypłata dla marynarza za tydzień żeglowania to 1 rubinowa Marka.
– Cena niewolnika to około 2 szmaragdowe Broamy.
– Wstęp do Palanaeum kosztuje 1000 szafirowych Broamów.
– 7 książek kosztuje 2 szmaragdowe i 3 szafirowe Broamy.
– 100 diamentowych Broamów to wystarczająca suma, by opłacić podróż z Alethkaru do Kharbranthu oraz naukę na chirurga.
– Shum (roślina służąca do produkcji tkanin) standardowo kosztuje 10 diamentowych Marek za worek.
– Usługa prostytutki (zwyczajnej dla szeregowych) kosztuje 1 Markę, zapewne diamentową, choć nie jest to powiedziane.
– 1 rubinowa Marka tygodniowo to hojna zapłata dla niewolnika-służącego.
– Wóz do transportu niewolników kosztuje 5 szafirowych Broamów (podobno to jest prawie darmo).
– Tygodniowa pensja w wysokości 3 Broamów (zapewne szmaragdowych) jest bardzo hojna, tylko dla najważniejszych sług, jak eleganckie metresy arcyksiążąt.
– Dobrze wykonane ozdobne noże razem z pochwami kosztują 20 szmaragdowych Broamów.
– Prosty naszyjnik z aluminium kosztuje 10 szmaragdowych Broamów.
– Zniszczony egzemplarz książki "Słowa Światłości" kosztował 2 szafirowe Broamy.
–
–
Oświetlenie
Oprócz bycia pieniądzem, kule służą również jako podręczne źródło światła. W wielu miejscach wymagających światła z różnych powodów (np. alkowy w Palanaeum) umieszczane były specjalne naczynia, w których umieszczało się własne kule, by oświetlały pomieszczenie. Najbardziej cenionymi jako źródło światła były kule diamentowe – Marki i Broamy, gdyż dawały najjaśniejsze, białe światło. Światło kul jest określane w porównaniu do świec. Jeden Odłamek słabe światełko, jedna Marka daje światło nieco mniejsze niż świeca, jeden Broam daje światło kilku, a nawet kilkunastu, świec. Kolor światła zależy od barwy klejnotu, który tworzy kulę. Burzowe Światło z kul wyczerpuje się samoczynnie po upływie mniej więcej tygodnia.
Przenośne latarnie na kule mieszczą kilka Marek, zazwyczaj trzy. W stacjonarnych lampach nie stosuje się zazwyczaj kul, lecz o wiele większe, tylko częściowo oszlifowane klejnoty, które mogą utrzymać Burzowe Światło znacznie dłużej niż kule. Podczas Płaczu, 4 tygodni deszczu bez Arcyburzy, pomieszczenia oświetlane są klejnotami określanymi jako "przerośnięte", pięć razy większe od Broamów. Stosowane były szafiry, być może ze względu na największą pojemność lub najczęściej występowały w takim rozmiarze.
Palanaeum było dość wyjątkową instytucją, bo jako oświetlenia używało skarbca Kharbrantu:
"Panował półmrok. Nie było ogólnego  oświetlenia, jedynie niewielkie szmaragdowe lampki rozjaśniające pomosty. Żarliwcy z kręgu Przenikliwości okresowo przechodzili po kolejnych poziomach, zmieniając kule. Musiały być tu setki setek szmaragdów – najwyraźniej stanowiły królewski skarbiec Kharbranthu. Czy było dla nich lepsze miejsce niż doskonale strzeżone Palanaeum? Tutaj mogły jednocześnie być chronione i zapewniać oświetlenie ogromnej biblioteki." DK, s 477/478.
–
Przemysł
Klejnoty są też główną częścią fabriali, magicznych urządzeń powszechnie wykorzystywanych na Rosharze. Jest ich wiele typów, otrzymywaniem i konserwacją fabriali zajmuje się społeczność Artifabrian. Fabriale zbudowane są z klejnotu lub klejnotów umieszczonych w metalowej oprawie, zwykle bardzo skomplikowanej. To oprawa warunkuje działanie – sposób, w jaki fabrial oddziałuje na otoczenie, uszkodzenie, a nawet złe ustawienie oprawy skutkuje utratą funkcji. Uszkodzenie klejnotu również powoduje zanik funkcji fabriala, tak samo jak utrata Burzowego Światła z klejnotu. Wzór Burzowego Światła przefiltrowany przez klejnot określa moc fabriala, tylko Mocowiązca może go zobaczyć nieuzbrojonym okiem.
Prawdopodobnie fabriale działają nieco podobnie do Wiązania Mocy, klejnoty służą do uwięzienia Sprenów i przymuszenia ich do wpływania na rzeczywistość. Fabriale, tak jak i Wiązanie Mocy, pozwalają na manipulację jedną z Dziesięciu Mocy. Można stworzyć fabriale do manipulacji każdą z Mocy, choć nie osiągnięto tego jeszcze.
–
Podstawowe typy fabriali:
Fabriale starożytne:
Fabriale transformujące, czyli Duszniki. Są fabrialami złożonymi z 3 klejnotów, które pokazują z jakimi Esencjami Dusznik jest zestrojony, choć nie jest to obligatoryjne i Dusznik złożony z rubinu, diamentu i kwarcu (Dusznik Jasnah/Lina Davara) mógł być użyty do otrzymania marmuru. Klejnoty umieszczone są w metalowej oprawie z łańcuszków, którą zakłada się na wierzch dłoni za pomocą dwóch pierścieni i bransoletki. By działał, Dusznik musi być w kontakcie ze skórą dusznikującego. Sam proces dusznikowania jest objęty tajemnicą, ale podobno wystarczy stuknąć Dusznik palcem, by go aktywować, a potem wydaje się mu polecenia mentalnie. Dusznikowany materiał musi być w kontakcie fizycznym z dusznikującym. Dusznikujący jako źródło Burzowego Światła w procesie Dusznikowania używają klejnotów, z którymi również muszą być w kontakcie. Żeby dokonać odpowiedniej transformacji, Dusznikowie muszą korzystać z klejnotów, które są związane z Esencją, z którą jest związany materiał jaki zamierzają otrzymać. Wielu Żarliwców utrzymuje, że łatwiej korzystać z Dusznika, jeśli podczas Dusznikowania nuci się w pewnym rytmie. Duszniki zostały stworzone w oparciu o moce Świetlistych władających mocami Transformacji (Tkaczy Światła i Przenosicieli), pozwalając każdemu władać tym Wiązaniem Mocy. Aktualnie większość Duszników jest w posiadaniu Kościoła Vorińskiego, mogą ich używać jedynie żarliwcy. Duchokrwiści mieli przynajmniej jeden.
Fabriale regeneracyjne, Odrodzenia. Złożone z dwóch klejnotów, znana jest wersja z Topazu i Heliodoru. Fabriale te mają za zadanie leczyć obrażenia, powodują praktycznie natychmiastową regenerację uszkodzonych tkanek. Mogą wyleczyć właściwie każde obrażenia, jeśli mózg leczonego jeszcze funkcjonuje. Stworzono je do manipulacji Mocą Wzrostu, w oparciu o Moce Świetlistych władających tą Mocą (Tancerzy Krawędzi i Widzących Prawdę). Aktualnie znany jest tylko jeden taki fabrial, posiada go Nalan'Elin.
Fabriale przenoszące, czyli Bramy Przysięgi. Prawdopodobnie największe fabrialowe konstrukcje na Rosharze, stworzone by manipulować Mocą Przenoszenia, na wzór Świetlistych Przenosicieli i Kształtujących. Jest ich 10 par, każda para stanowiła połączenie między stolicą jednego ze Srebrnych Królestw a Urithiru. Były jedyną drogą, którą można było dotrzeć do Urithiru. Brama Przysięgi to wielki, okrągły, przypominający kolumnę postument mający kilkaset stóp średnicy. Pośrodku postumentu jest zbudowany okrągły budynek, który można określić jako "panel sterowania" Bramy Przysięgi. Jest w nim tylko jedno okrągłe pomieszczenie. Ściana budynku jest podwójna, wewnętrzna warstwa może się obracać, co służy do wskazywania celu podróży. W pomieszczeniu jest dziesięć lamp napełnionych klejnotami. O typie klejnotów użytych w lampach nie wiadomo nic poza faktem, że są tam rubiny. Posadzka i ściany pokryte są misterną mozaiką, przedstawiającą świat i wszystkie warstwy społeczne. Mozaiki na podłodze dzielą ją na 11 części, część jedenasta jest węższa i przedstawia Urithiru. Na ścianie jest otwór, w który można wsunąć Ostrze Odprysku, wszystkie postaci rycerzy na ścianach wskazują na niego.
Aby uruchomić Bramę Przysięgi, należy najpierw napełnić Burzowym Światłem wszystkie klejnoty w lampach, następnie wsunąć żywe Ostrze Odprysku do otworu, co powoduje aktywację fabriala. Kolejną czynnością jest ustawienie otworu, przy użyciu wsuniętego Ostrza, nad odpowiednią częścią podłogi, poprzez przekręcenie wewnętrznej ściany. By dokończyć proces, dokonując Przeniesienia, należy wyjąć Ostrze z gniazda. Brama Przysięgi zużywa tym więcej Światła, im więcej ludzi ją przekracza, napełnienie lamp w komnacie jest jedynie minimum potrzebnym do uruchomienia urządzenia.
Konieczne jest posiadanie żywego Ostrza Odprysku, czyli związanego sprena, dlatego tylko Mocowiązcy – Świetliści, mogą uruchomić Bramę Przysięgi. Aktualnie jest tylko jedna działająca para Bram Przysięgi, łącząca Urithiru i ruiny Miejsca Burz, stolicy dawnego królestwa Natanatanu.
–
Fabriale nowoczesne:
Fabriale Zmieniające: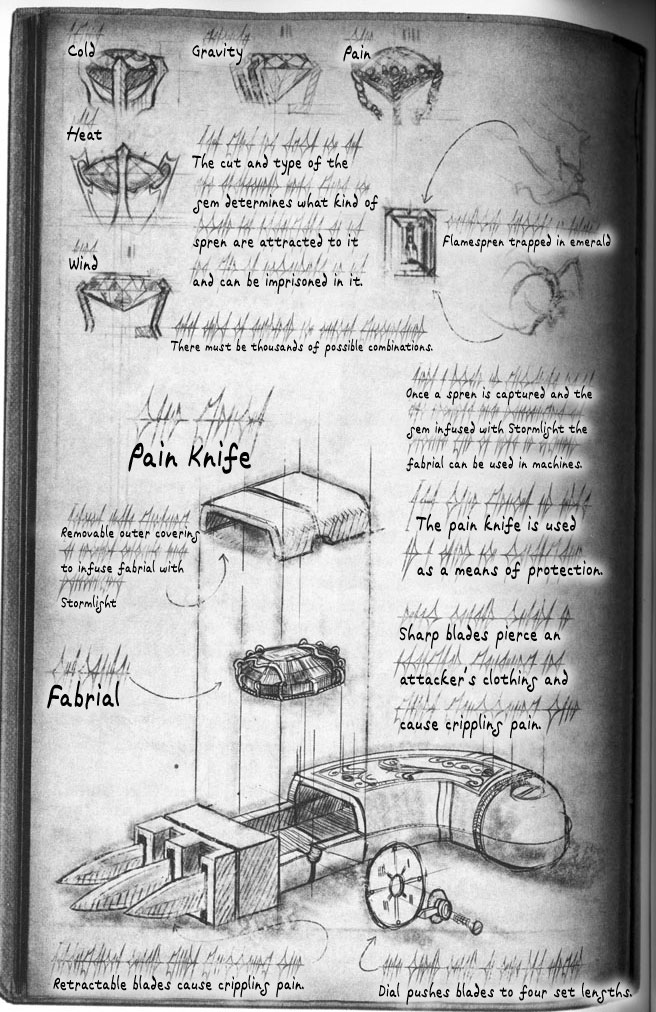 Fabriale wzmacniające, wzmacniacze. Służą do wzmocnienia pewnych właściwości przedmiotów. Za pomocą takiego fabriala można zwiększać wytrzymałość mechaniczną lub na inne czynniki zewnętrzne, oraz zwiększyć pewne odczucia na konkretnym rejonie. Przykładami fabriali wzmacniających są Pół-odpryski, tarcze mogące powstrzymać cios Ostrza, a także Odpryskowe Łuki, o zwiększonej wytrzymałości na naprężenia. Fabrialami tego typu są również fabriale grzewcze, zwiększające temperaturę otoczenia, zasilane rubinami. Istnieje również inna broń zasilana takim fabrialem, Nóż Bólu, o krótkich ostrzach, ale zadający przy ciosie olbrzymi ból.
Fabriale zmniejszające, umniejszacze. Są odwrotnością wzmacniaczy, służą osłabieniu jakiejś siły czy wrażenia. Przykładem ich są fabriale zmniejszające ból, zasilane rubinem i z oprawą z mosiądzu. Są nimi również fabriale ochładzające, przeciwieństwo fabriali grzewczych.
–
Fabriale sparowane:
Fabriale będące złożone z dwóch oddzielonych od siebie części, o różnych reakcjach w zależności od klejnotu. Interakcja między połączonymi klejnotami wzrasta odwrotnie proporcjonalnie do odległości między nimi. Zastosowanie ma zasada zachowania siły – taka sama siła włożona do poruszenia pierwszego klejnotu jest potrzebna do poruszenia klejnotu sparowanego. Jeśli do jednego z klejnotów przymocowany zostanie ciężar, do przemieszczenia drugiego potrzeba będzie równej siły. Przy dużych odległościach i znacznych ciężarach powstające naprężenia sprawiają że połączone klejnoty mogą popękać. By otrzymać połączone klejnoty, należy podzielić pierwotny klejnot, wcześniej poddany nieznanemu procesowi.
Łączniki. Fabriale charakteryzujące się tym, że klejnoty w nich zastosowane reagują tak samo, mimo dzielącej je odległości. Jak dotąd jedynymi klejnotami stosowanymi w łącznikach są rubiny, używane do tworzenia łączotrzcin, fabrialowych telegrafów. Są to proste konstrukcyjnie urządzenia, na które składają się dwa komplety, złożone z przenośnego blatu (identycznego w obu kompletach), kałamarza i kartek papieru oraz trzcinowego pióra, do którego umocowany jest klejnot. Pióro sygnalizuje nawiązanie połączenia przez miganie. Aktywacja trzciny odbywa się przez przekręcenie klejnotu, tak samo jak przełączenie trybu czytanie-pisanie. Wiadomości muszą być pisane kolejno, przez dwie osoby – osoba czytająca wiadomość musi oczekiwać na koniec wiadomości, po czym by zasygnalizować że zaczyna pisać przez przekręcenie klejnotu. By działały poprawnie, oba zestawy łączotrzcin – a właściwie blaty – muszą być nieruchomo względem planety, nie można ich używać w czasie jazdy powozem czy podróży statkiem. Blaty muszą być też wypoziomowane.
Odwracacze. Nowo odkryte fabriale charakteryzujące się tym, że połączone klejnoty mają odwrotne reakcje – np. gdy jeden z nich zostanie podniesiony, połączony z nim opadnie. Używanymi klejnotami są ametysty. Fabriale tego typu mogą być użyte do konstrukcji wind, np. w Urithiru.
Fabriale wiążące, atraktory. Przyciągają do siebie określone substancje. Jak dotąd znane są dwa rodzaje fabriali tego typu, różniące się przyciąganą substancją. Istnieją fabriale pochłaniające dym z powietrza, co powoduje, że możliwe jest używanie otwartego ognia w pomieszczeniach bez kominów. Klejnot użyty w nim to kwarc dymny. Drugim rodzajem są fabriale pochłaniające wilgoć z powietrza, czyli osuszacze. Klejnotem je zasilającym jest granat.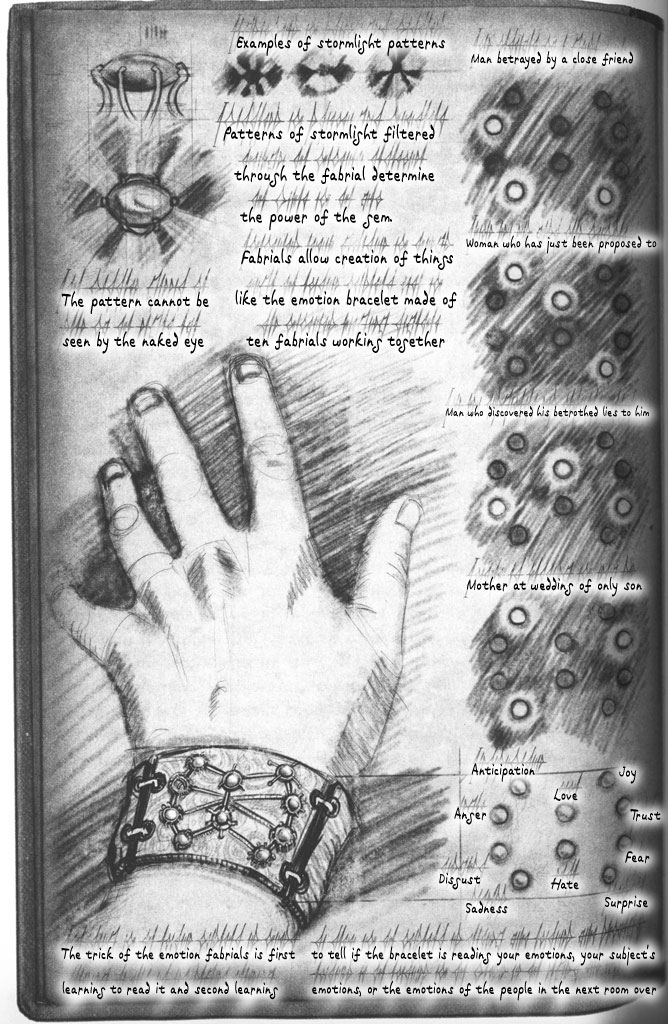 Fabriale ostrzegawcze. Służą do ostrzeżenia użytkownika przed zbliżającymi się/wzrastającymi osobami, czynnikami, emocjami, zjawiskami itp. Klejnotem zasilającym fabriale tego typu jest heliodor. Wraz z ilością Burzowego Światła gromadzonego przez klejnot zwiększa się ich zasięg, zatem te o dużym zasięgu muszą mieć duże klejnoty. Przykładem jest fabrial ostrzegawczy, ostrzegający przed zbliżaniem się ludzi za pomocą pulsowania, a także Bransoletka Emocji – pokazująca jakie emocje występują w pobliżu użytkownika. Jest w stanie zidentyfikować dziesięć emocji: Oczekiwanie, Gniew, Niechęć, Smutek, Miłość, Nienawiść, Radość, Zaufanie, Strach, Zaskoczenie.
Fabrialowe zegary. Służą do mierzenia czasu. Klejnotem napędzającym może być na pewno kwarc dymny, możliwe że inne też mogą być użyte. Zegary są wyposażone w centralną tarczę, na której pokazują upływający czas.
–
Inne Funkcje
Klejnoty są również częścią, choć nie zintegrowaną, Ostrzy Odprysku. Klejnot umożliwia zawiązanie więzi między Ostrzem a posiadaczem. Zawiązywanie więzi trwa tydzień. Przez dotknięcie klejnotu zrywa się też więź z Ostrzem. Używane są wszystkie rodzaje klejnotów.
Klejnoty są również częścią Pancerzy Odprysku – bardzo ważną, gdyż są to ogniwa zasilające. Jeśli klejnoty w Pancerzu popękają i utracą Światło, Pancerz traci wspomaganie i się "blokuje". Klejnoty umieszczone są w napierśniku Pancerza, zniszczenie napierśnika powoduje utratę zasilania. Nieznany jest rodzaj klejnotów używanych w Pancerzu.
We wnętrzach Wielkoskorupów wyrastają klejnoty, wielkie szmaragdy, zwane Sercami Klejnotów. Bardzo cenione i cenne, jedno Serce zapewnia żywność dla armii nawet na kilka tygodni. Im starszy jest wielkoskorup, tym większe jest jego Serce Klejnotu. Serca Klejnotów wydobyte z Przepastnych Bestii są wielkości ludzkiej głowy, czasem większe. Nie odważę się zgadywać, jak wielkie będą Serca Klejnotów Tai-Na.