Można by rzec, że jest to pierwsze dzieło Brandona. Zbliżająca się publikacja White Sand obliguje nas do przybliżenia jednej z pozycji osadzonych w Cosmere.
Biały Piasek Prime był pierwszą powieścią, jaką kiedykolwiek napisał. Potem został przerobiony od zera, stając się jego ósmą ukończoną powieścią. Według słów autora, był wystarczająco dobry by pomógł mu zdobyć agenta, Joshuę Bilmesa. Razem z Elantris i Dragonsteel Prime wyznacza początek prac nad Cosmere.
–
Brandon udostępniał mailowo Biały Piasek na życzenie, z zastrzeżeniem jednak aby nie dyskutować o nim publicznie. Teraz ta wersja Białego Piasku jest przerabiana w trylogię powieści graficznych, z których pierwszy tom ma mieć premierę angielską 5 lipca (w cenie $22.49). Wydaniem zajmuje się Dynamite Entertainment; zadanie przetłumaczenia powieści Brandona na format powieści graficznej zostało powierzone scenarzyście Rikowi Hoskinowi, rysownikowi Juliusowi Gopezowi i koloryście Rossowi Campbellowi. Każdy tom ma mieć 160 stron.
Biały Piasek został wydany w Polsce 15 marca 2017.
–
Taldain
Akcja Białego Piasku jest osadzona na Taldain, Świecie Odprysku obracającym się synchronicznie względem słońca (powszechnym błędem jest sądzenie, że Taldain nie obraca się w ogóle). Jest to podobna sytuacja jak z Ziemią i Księżycem, tj. czas obrotu wobec własnej osi jest równy czasowi obiegu, co oznacza że Taldain jest zawsze zwrócony tą samą stroną do słońca. Powoduje to podział planety na dwie strony: zawsze skąpany w blasku Dzień i pogrążony w wiecznej nocy Mrok.
Najpotężniejszymi osobami wśród Dziennych są Władcy Piasku, zdolni do manipulowania piaskiem w celach budowy, przemieszczania się, a także walki oraz obrony. Mroczni posiadają własne, unikalne zdolności. Gdy odwiedzają Dzień, muszą nosić grube ciemne soczewki.
–
Opis
Biały Piasek opowiada historię Kentona, najsłabszego z Władców Piasku, którego mizerne zdolności bledną w porównaniu z jego kolegami czy jego potężnym ojcem.
Jednakże, po stronie Dnia spisek zagraża stabilności całej planety. Kiedy Władcy Piasku zostają złapani w pułapkę i wyrżnięci, Kenton uważa się za jedynego ocalałego. Z wrogami zbliżającymi się z każdej strony, Kenton zawiązuje niespodziewany sojusz z tajemniczą Ciemną imieniem Khriss, która skrywa również swoje własne sekrety.
–
Na co powinniśmy zwrócić uwagę
Odpryskiem rezydującym na Taldain jest Autonomia (posiadacz: Bavadin, wspomniany w Liście w Drodze Królów).
Khriss jest ciemnoskórą kobietą (to prawdopodobnie ona widnieje w lewym górnym rogu okładki), która o cosmere wie więcej nawet od Hoida. Jest praktycznie pewne, że to ona jest autorką Ars Arcanum. Nazh dla niej pracuje. Oboje podróżują pomiędzy światami.
Akcja Białego Piasku rozgrywa się dość wcześnie na osi czasu cosmere. Z pewnością jest to już po Strzaskaniu Adonalsium, ale dokładniejsze umiejscowienie nie jest znane. Prawdopodobnie przed Elantris.
Okładka:


Strony 12-20: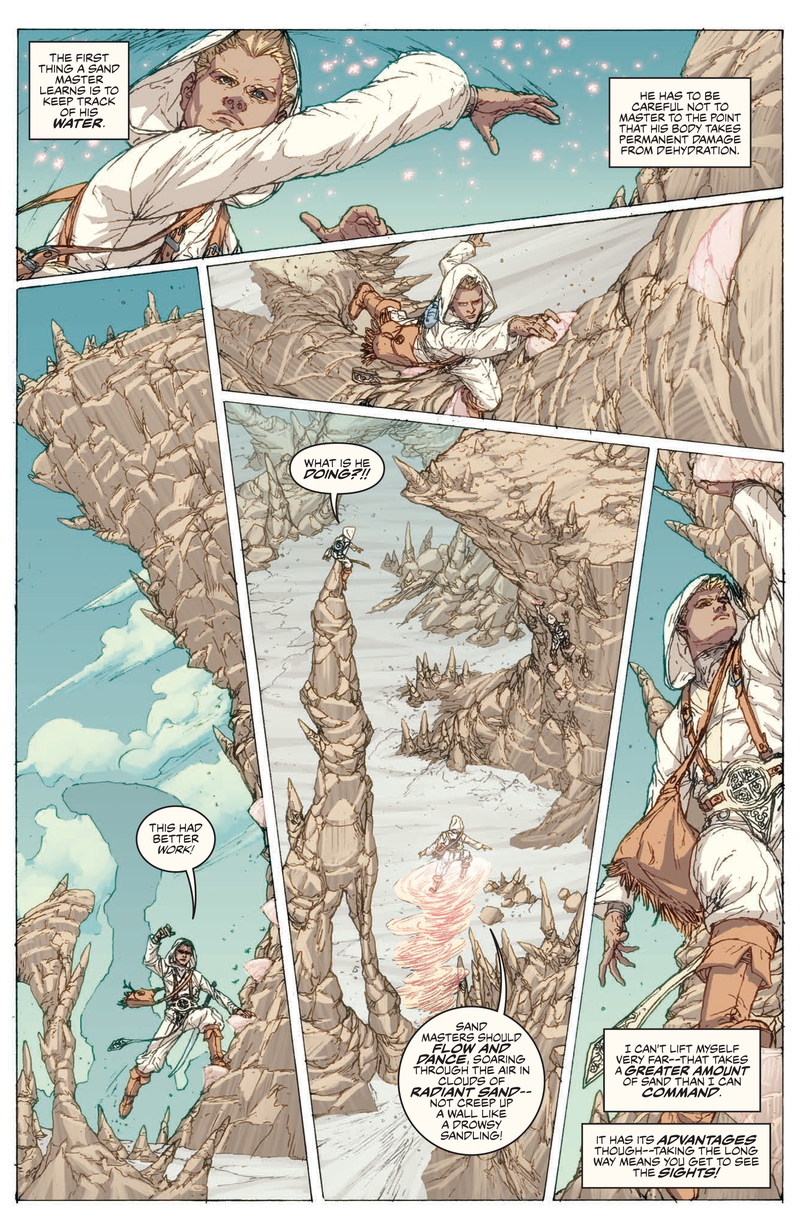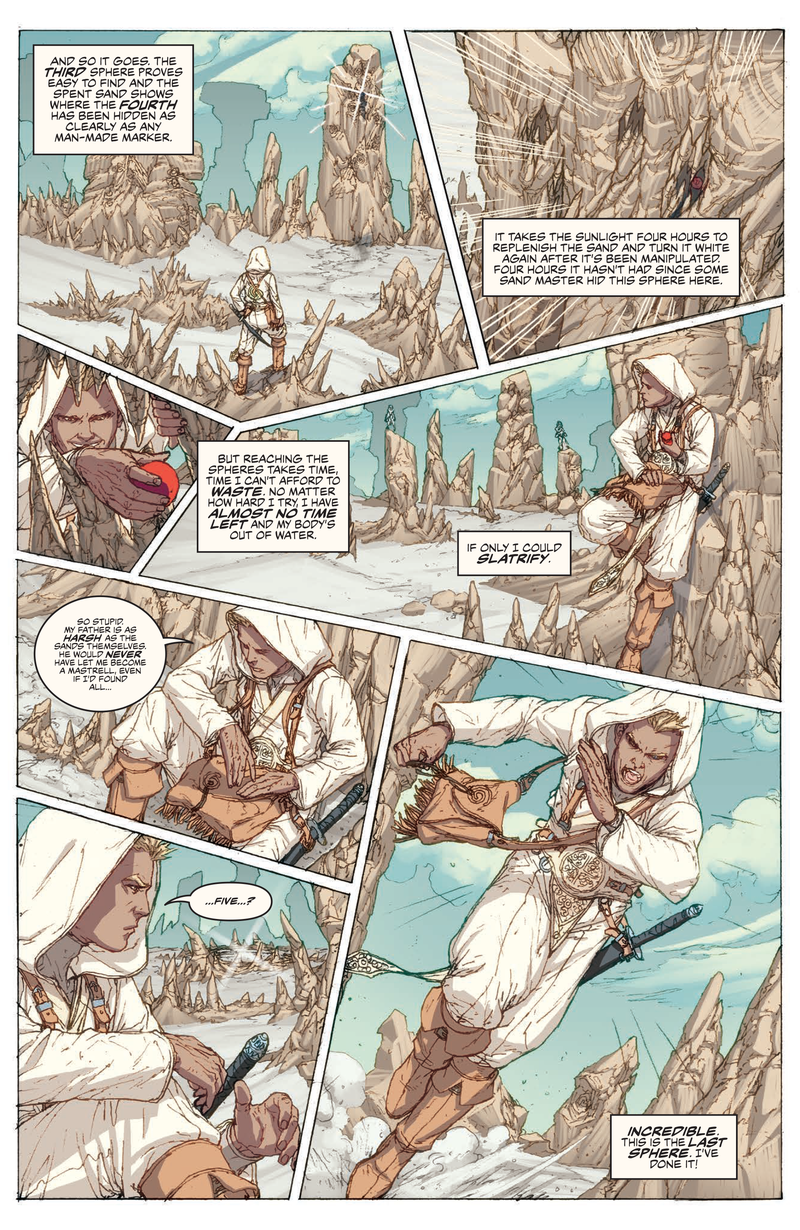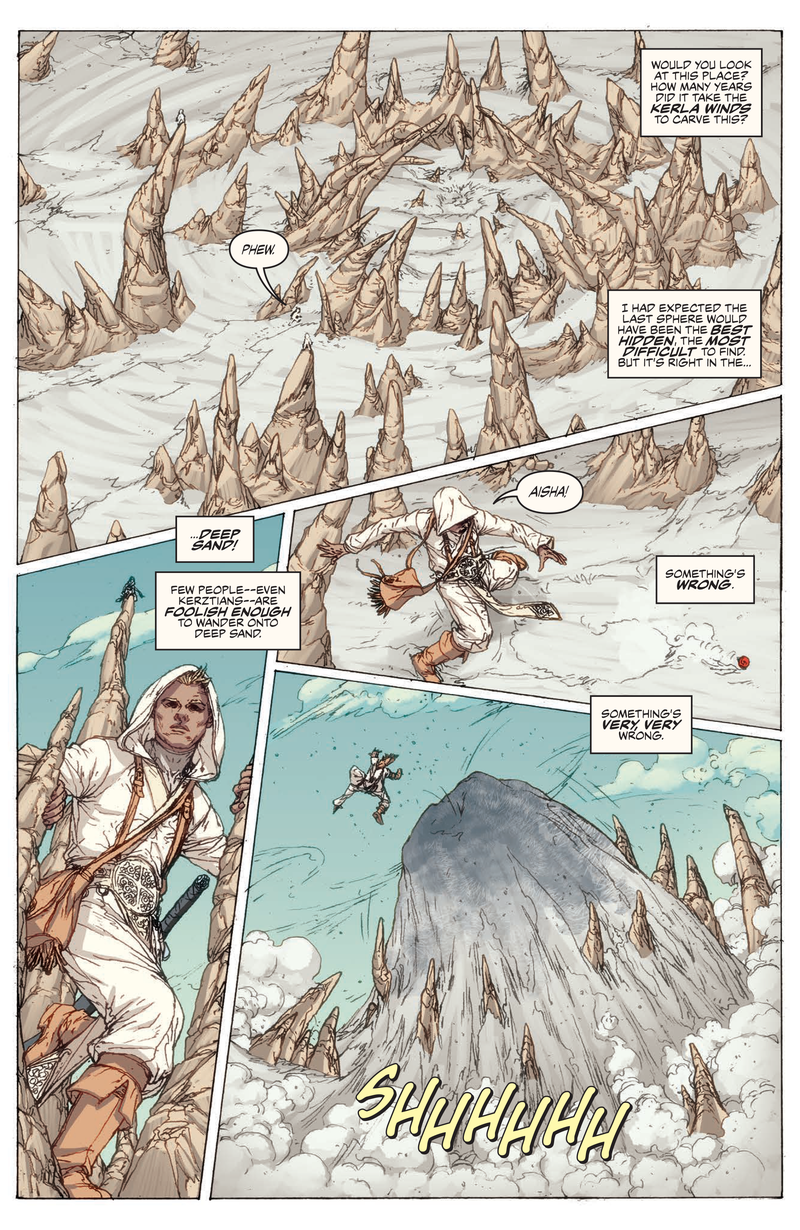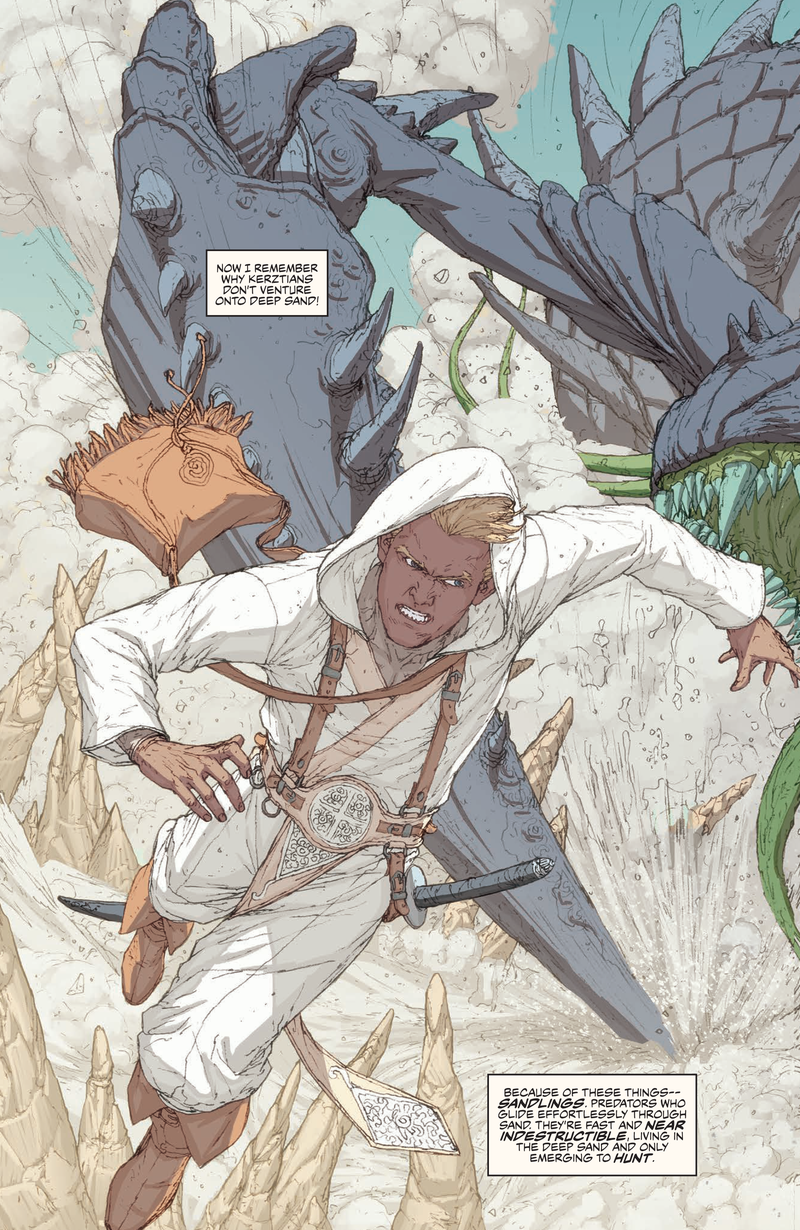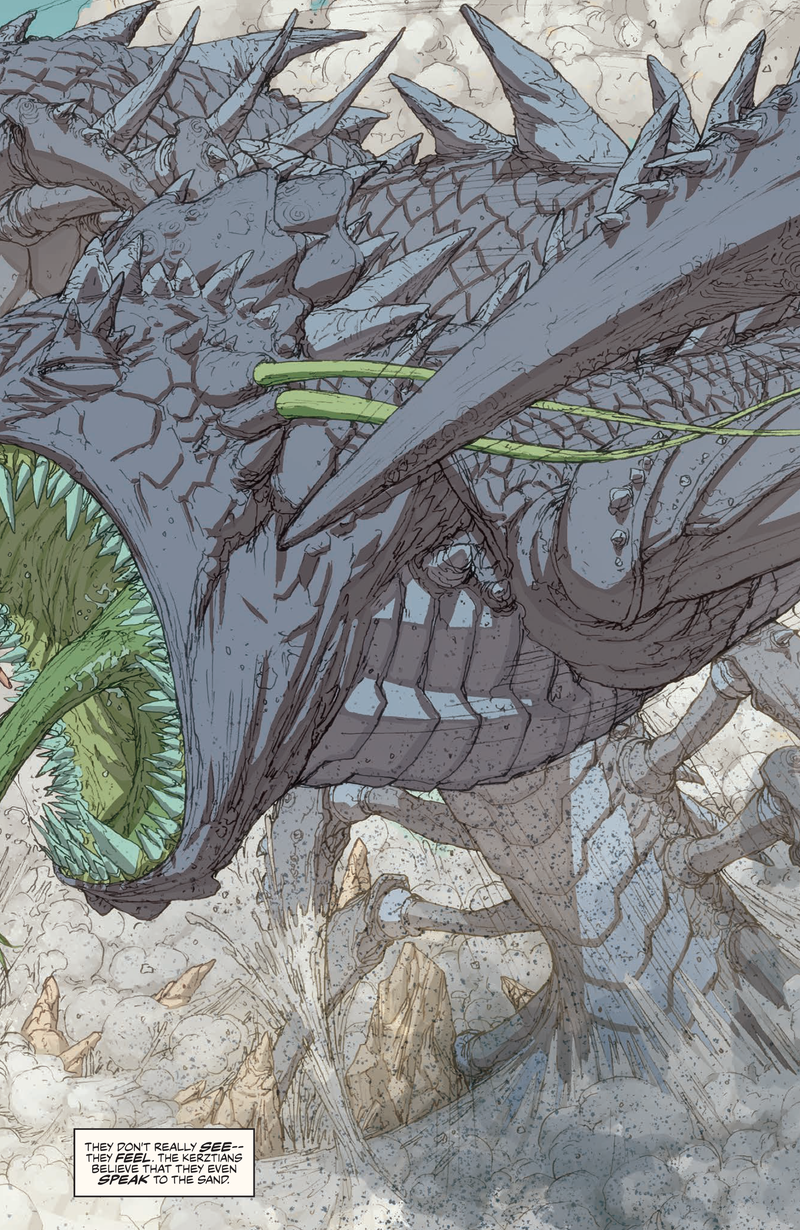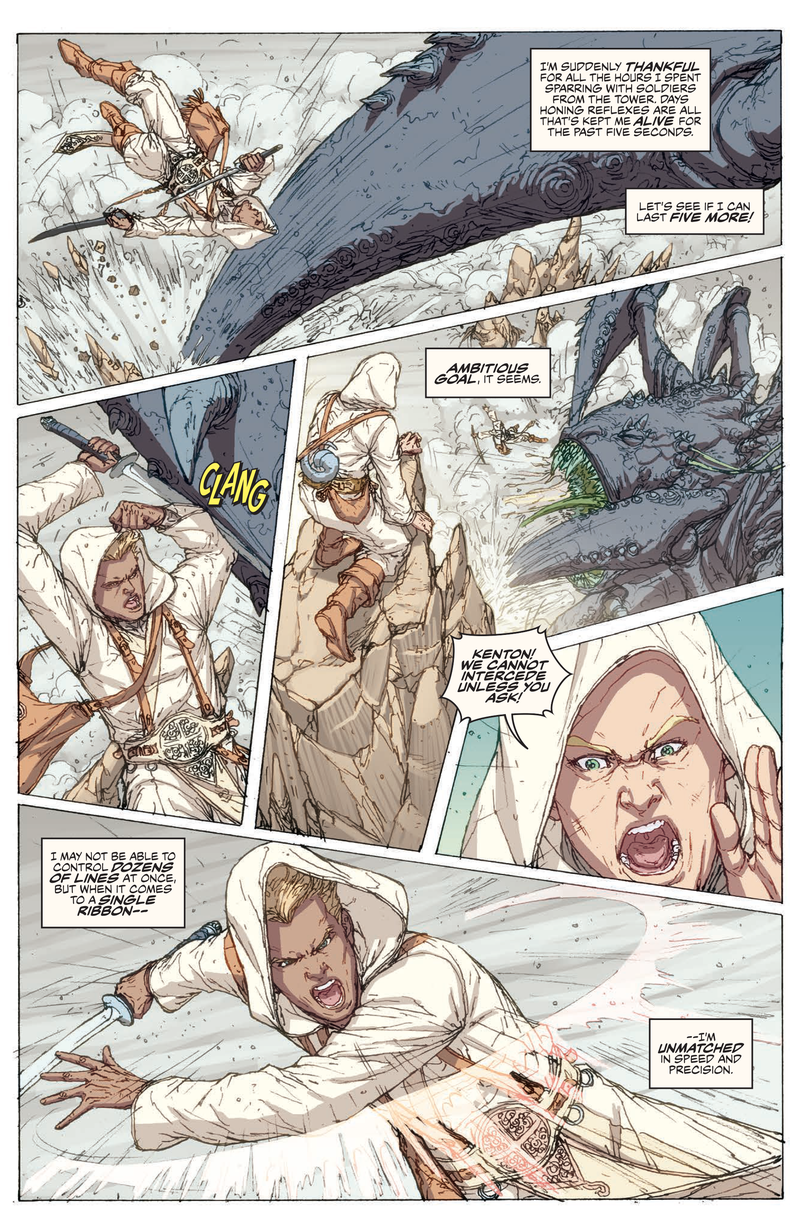 P.S.
Po wejściu w ten link można zobaczyć więcej stron (a jeszcze więcej, jak ktoś ma konto na amazonie)!